"A home is the single largest investment that most people would ever make and by choosing the right builder you will be making the experience one that you will talk about and remember with pride"
7 Complete Warranty
When you have a home built by Bart DiGiovanni Custom Homes you get an unbeatable combination of quality, affordability, service and peace of mind.
We use nothing but the best of material and labour along with a 7 year complete warranty.
Other standard features;
From our Family to Yours
Since 1975 we have been working with families to build their dream homes on budget and on time. Our homes are built with the highest quality and outstanding in-house engineering design. When build a custom home with Bart Di Giovanni Construction you get the highest return on investment of any other home builder.
Our qualified designers work together to meet with each customer to assist them in choosing the perfect design for each individual family, and helping with selections to personalize each home, making it exactly what they are looking for.
94% high efficiency furnace
High efficiency air conditioner
Windows with low-e and argon for higher energy efficiency
See how our custom homes are built to meet and exceed industry standards to ensure maximum quality and value retention of your new home.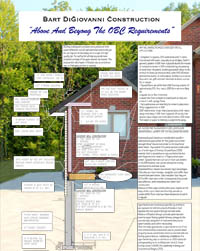 click image to enlarge